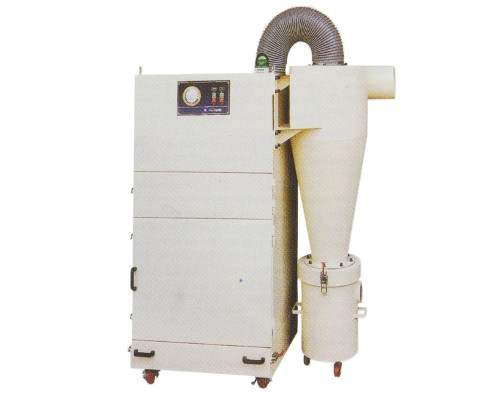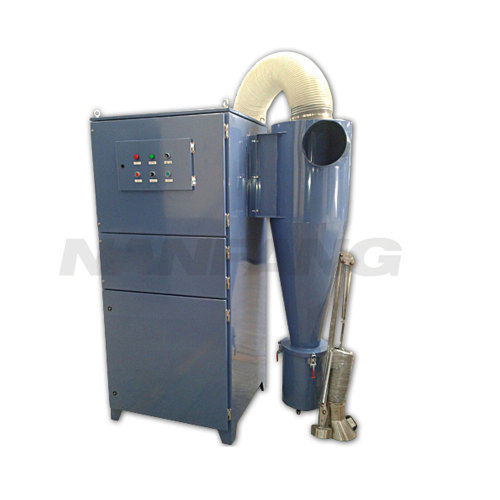 ACMAN 2 Stage Dust Collector Two Stage Collection System-Cyclone with Cartridge Dust Extractor
Description
2 Stage Dust Collector Two Stage Collection System-Cyclone with Cartridge Dust Extractor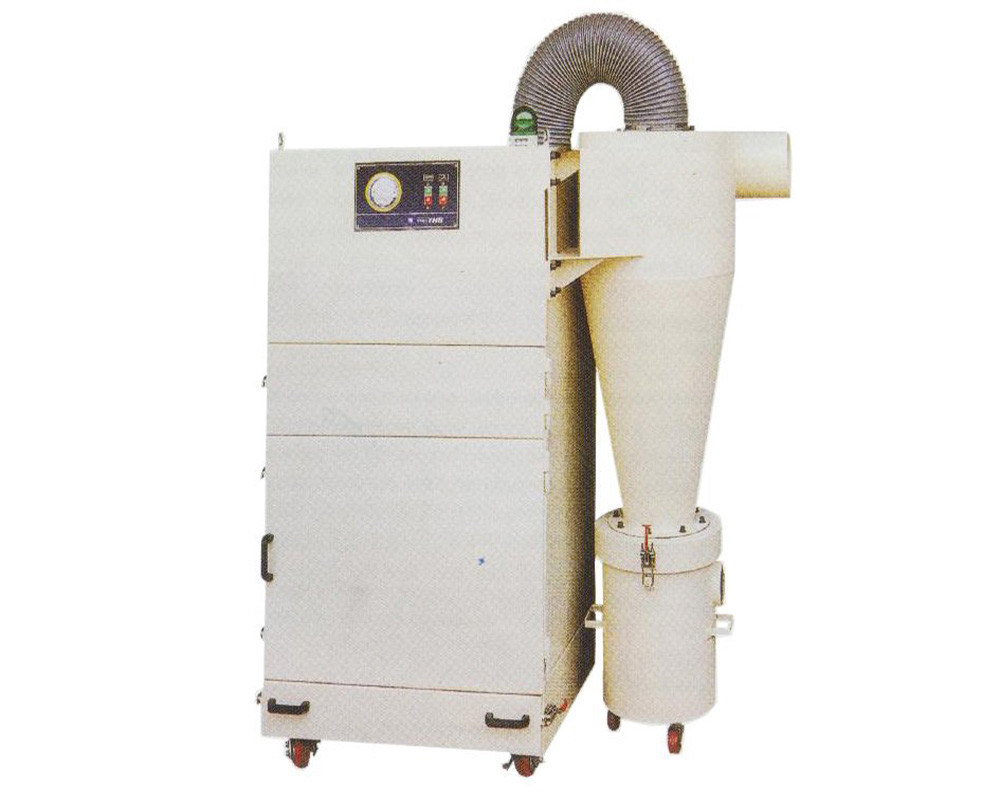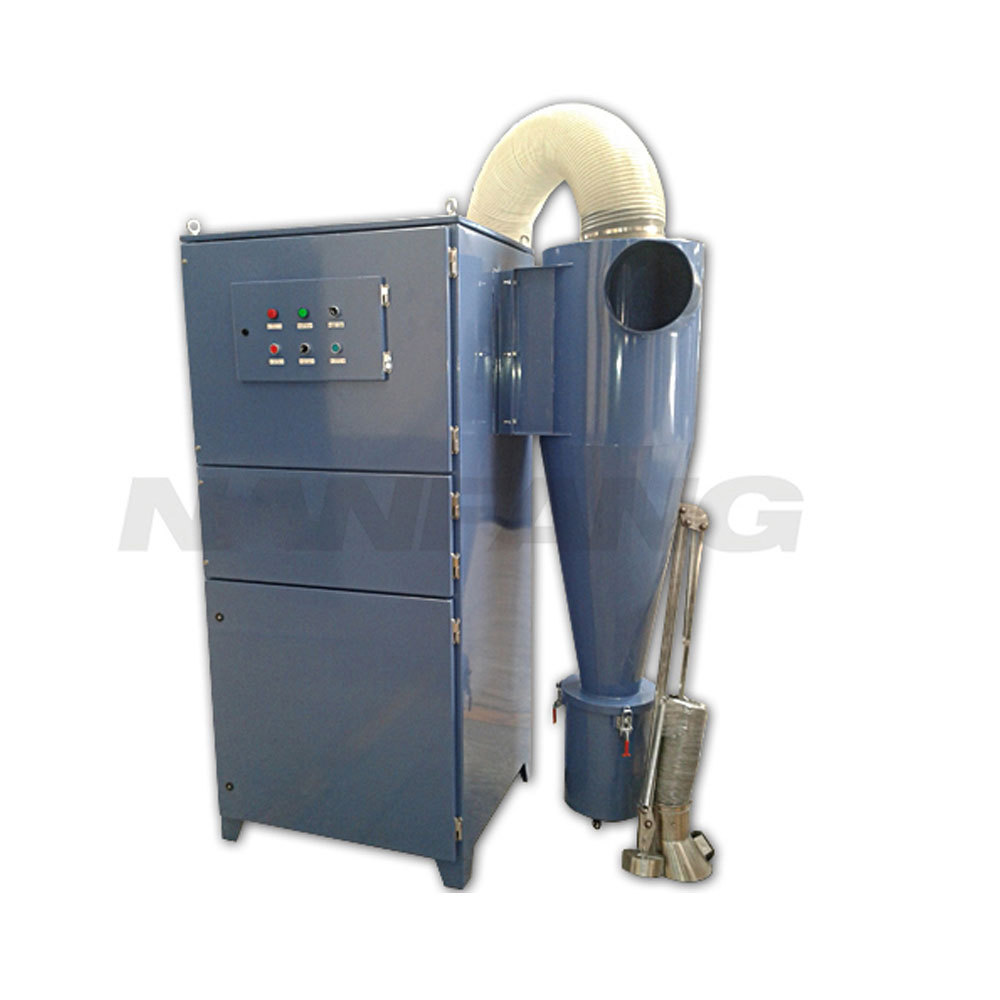 How does this two stage dust collector working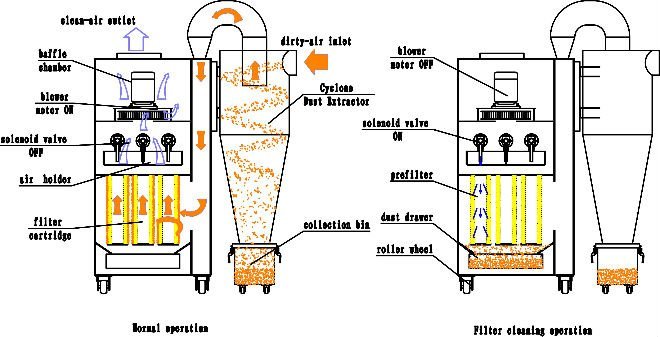 First stage: Cyclone to catch the big and heavy dust depending on the centrifugal force, the efficiency is about 70-89%, that means most of the dust will be collected by the first stage cyclone dust collector;
Second stage: Some fine dust will flow out of the cyclone, so we should have a second stage filtration machine. The second dust collector is cartridge filter pulse-jet type dust extractor, which has high efficiency and self-cleaning filters functions, also the blower/centrifugal fan plays as a traction role for this dust collection system.
On-line cleaning mode: The cartridge filter dust collector has a pulse-jet cleaning system which needs 0.4-0.6mp compressed air and the backing air flow will cleaning the filter surface on line.
Mostly, this second stage dust collection system are widely applied in the high concentration and high density dust processes for example sandblasting...
As Pre-separator:
The cyclone collector always plays a pre-separator role in the high concentration dust condition. For example: packaging, sandblasting, metal processing...
Heavy Dust Collection:
Depending on cyclone dust extractor's advantage, cyclone always be used in the heavy dust collection, so the efficiency could about 89% for catching the dust.
Powder Recycle:
Stainless steel cyclone are always applied in the powder recycle process, because the cyclone dust collection are easy for cleaning and washing.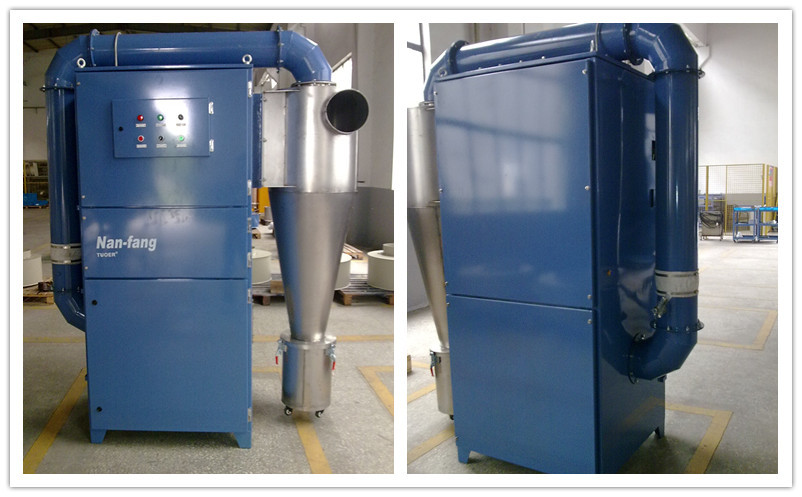 Israel customer OEM 2-stage dust collectors
This two stage dust collector is OEM for our powder recycling plant, 90% powder should be captured by the cyclone dust separator, then the cartridge filter unit catch the final dusts.
In the high concentration dust conditions is also suitable for this 2-stage dust collector, because only cartridge filters can not overcome the high concentration dust condition.
The cyclone should be made of stainless steel for recycle.