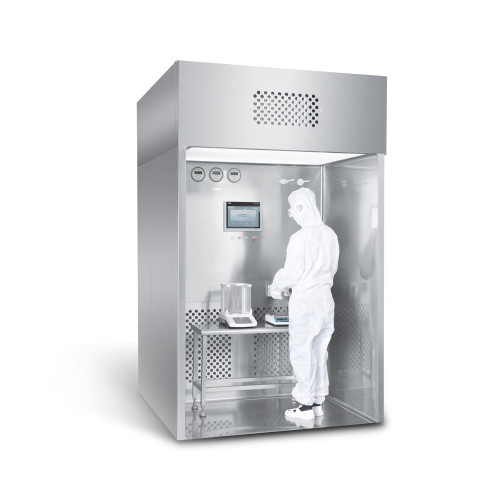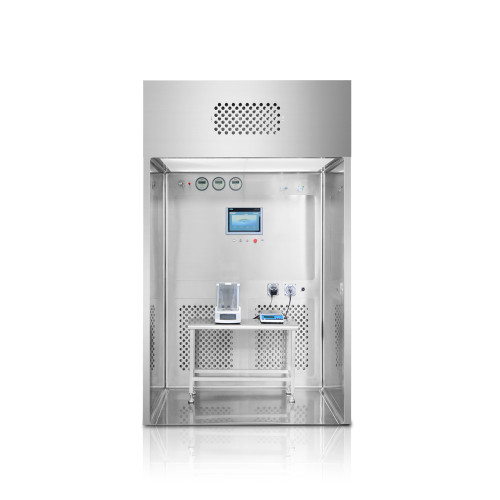 Dispensing Booth in Pharmaceutical Industry, Dispensing of Raw Materials in Pharmaceutical Industry, Sampling Booth
Description
Dispensing Booth in Pharmaceutical Industry, Dispensing of Raw Materials in Pharmaceutical Industry, Sampling Booth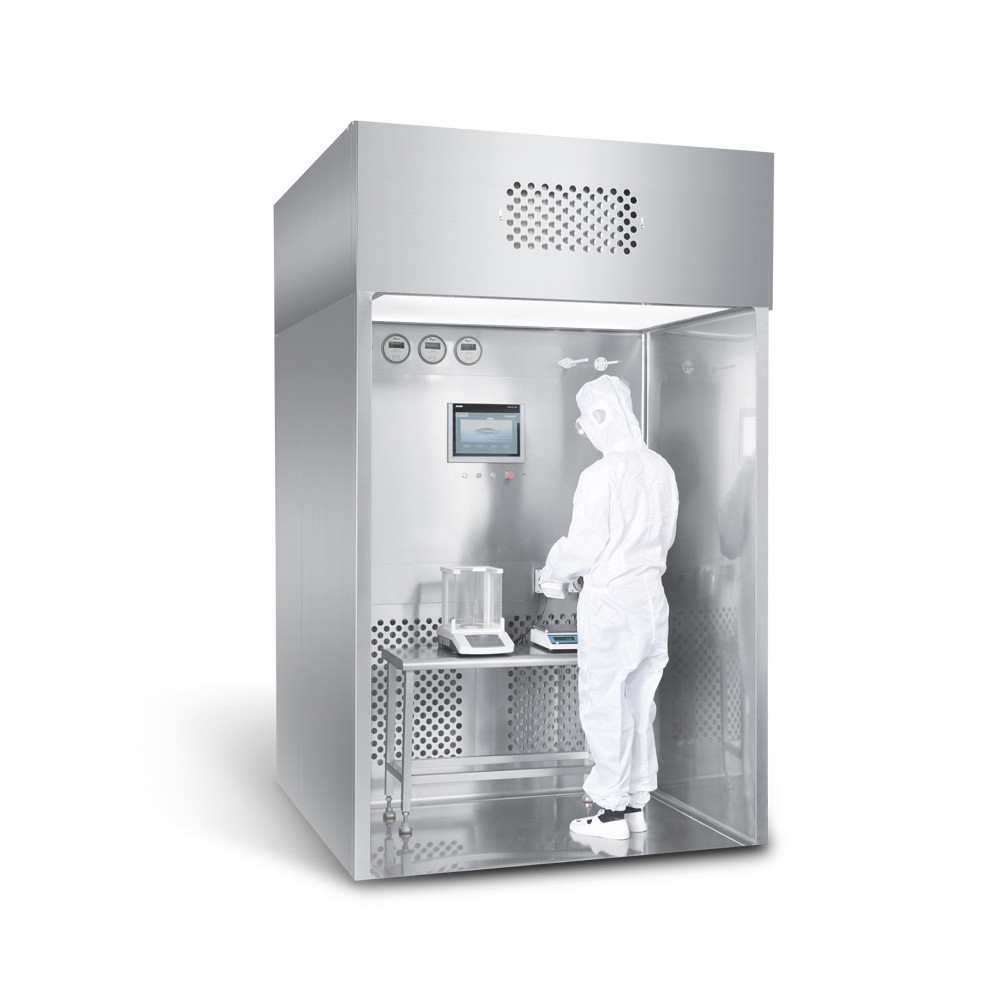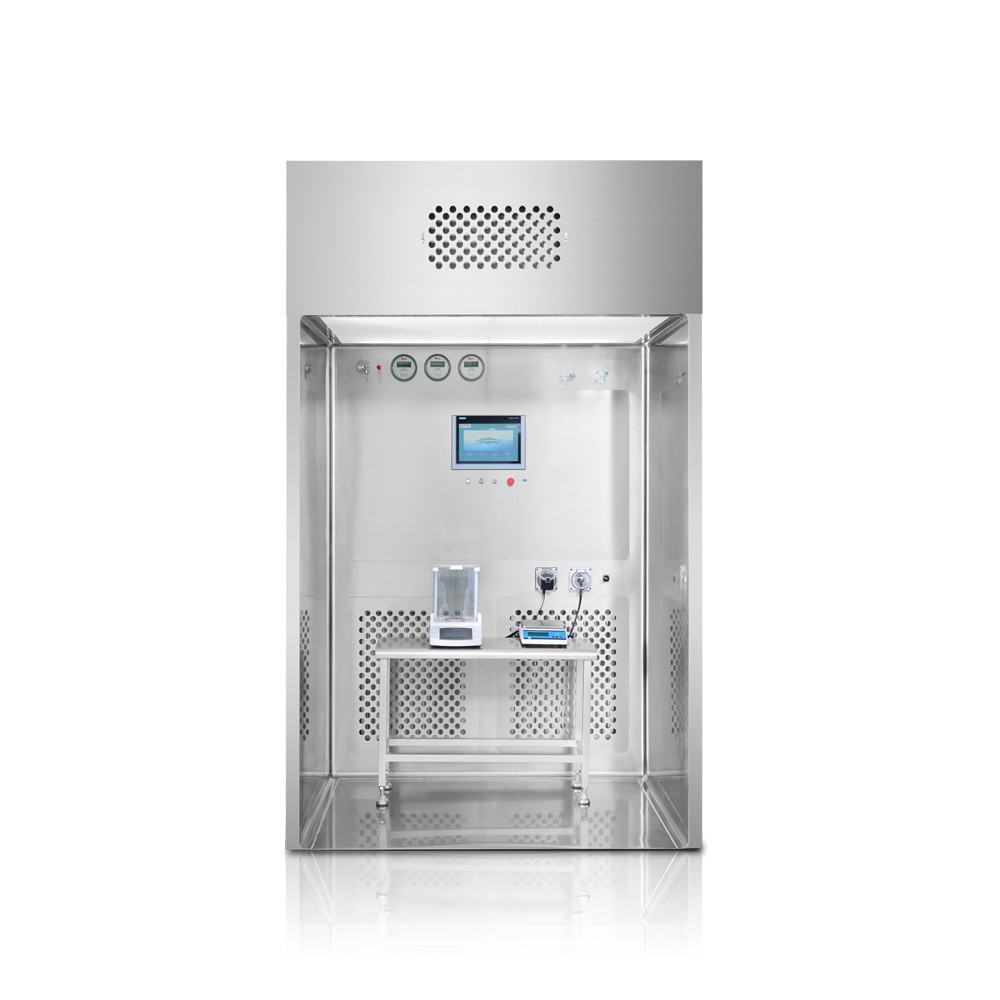 Sampling Booth in Pharmaceutical Industry
The negative pressure weighing room(Dispensing booth) is a purification equipment designed for weighing raw and auxiliary materials, drying materials or product sampling in the purification area. It is mainly used in places such as pharmaceuticals, microbiological research and scientific experiments. The system is equipped with primary, intermediate and high-efficiency filters, which provide a vertical unidirectional airflow to the weighing work area, which can effectively control dust flying. Most of the clean air circulates in the work area, and a small part of the clean air is discharged to the background area. , make the working area generate negative pressure relative to the background area, prevent cross-contamination, and protect the clean environment and the safety of indoor personnel.

Work area integrated arc design, no dead corners, no dust accumulation, easy to clean.
The air curtain is isolated, the personnel and materials are easy to enter and exit, the operation is convenient, and there is no hygienic dead angle.
The patented design of differential pressure balance and the air curtain partition device in the negative pressure weighing chamber ensure that the pressure difference in the background area does not change.
The one-way flow pattern is good, the dust does not spread, and the dust capture effect is good.
A cooling unit can be added to ensure that the temperature of the equipment is within the control range during operation.
Combined with the company's testing methods, the filter grade can be reasonably selected.
Weighing equipment control is integrated into the equipment according to customer requirements.
The isolation methods include air curtain isolation, soft curtain isolation, and plexiglass isolation.
The return air orifice is fixed by strong magnet, which is easy to disassemble and assemble.
Dispensing Booth in Pharma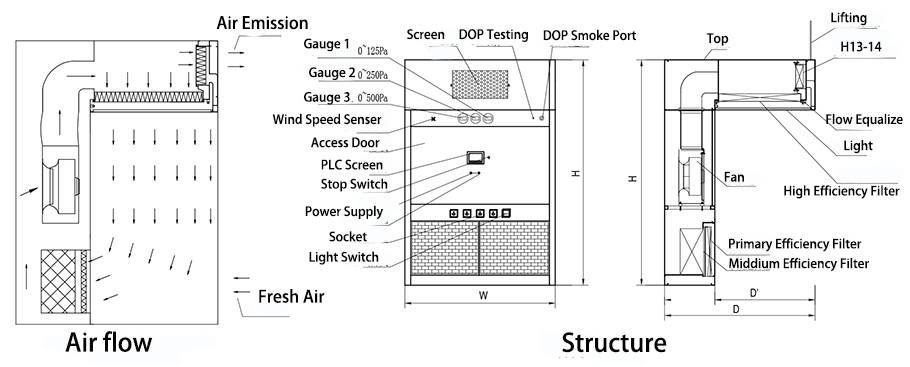 Air velocity is 0.45m/s±20%.
Equipped with control system.
Wind speed sensor, temperature and humidity sensor are optional.
High-efficiency fan modules provide clean laminar air (measured with 0.3µm particles) to meet cleanroom requirements with efficiencies up to 99.995%.
Filter module:
Primary filter - plate filter G4;
Medium efficiency filter - bag filter F8;
High-efficiency filter - liquid tank high-efficiency non-partition filter H14.
380V power supply.