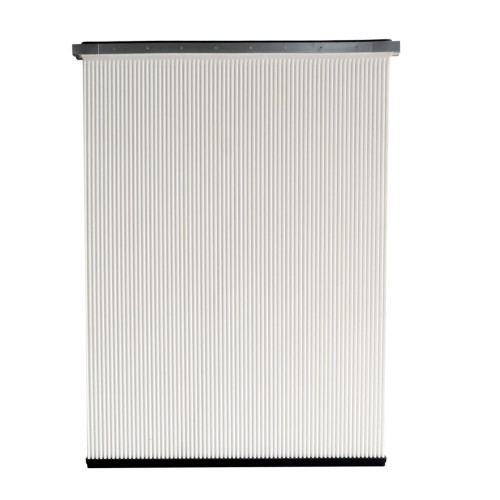 HSL Sinter Plated Filter, Herding Type HSL 1500/18, Sintamatic Series Filter Panel for Recovery Powder Products, Aritikel Nr S-20543
Model

Herding HSL 1500/18 Filter Elements
Description
HSL Sinter Plated Filter, Herding Type HSL 1500/18, Sintamatic Series Filter Panel for Recovery Powder Products, Aritikel Nr S-24500

UHMW-PE Sinter-plate filter advantages
Sintered Filter Media Panels filter technology bases on pure surface filtration. It sustainably protects man and machine from harmful production emissions and enables absolutely sort- and contamination-free material recovery. This increases directly your productivity.
Lowest clean gas values, absolutely constant operating conditions, highest availability and energy efficiency are key features of the innovative technology. Sintered PE Surface filter elements show extreme durability and, depending on the process, long service life times of more than 15 years. Thereby the filters make a valueable contribution to environmental protection and sustainability.
Sintered PE Surface filter elements have proven themselves for decades in effective and safe particle separation in almost all areas of industry . Even with finest grain sizes, energy-efficient air recirculation is possible in most cases, proven even with toxic dust.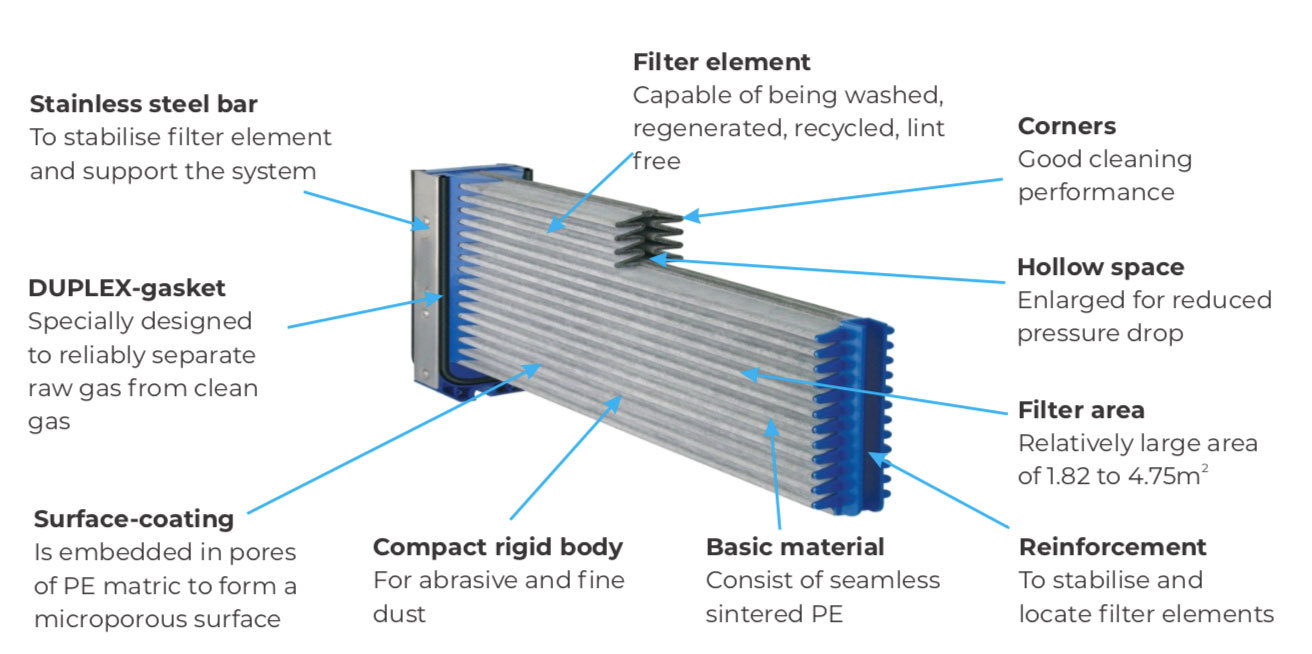 Sinter plate filter


Advantages

Pure surface filtration due to PTFE embedded in the PE-matrix and non-flexible filter media

No penetration and deposition of dust particles in pores

Rigid body design

No wear and tear on the media due to movement (contraction during suction, expansion during cleaning)

Long operational life time up to 10 years possible


Low maintenance costs

Filter elements can not fall down into the silo due to screwed mounting and no breaking of elements

No tearing of element possible




Two screw mounting system and lower number of elements




Quick change of filter elements without the need for extra equipment (crane)


Perfectly suited for product recovery as medium is free of lints or fibres that could get loose

no danger of textile getting loose and contaminating the product
Sinter-plate filter advantage:
l Filter element lifetime of up to 15 years possible
l Low maintenance costs due to long useful life of the filter elements
l Constant pressure drop guarantees consistent air flow
l High separation efficiency due to surface filtration
l Clean gas emissions <1.0 mg/m3
l Compact rigid body generates a robust filter design
l Filter medium: capable to be washed, recycled and refurbished
l Universal mounting from the raw- or clean gas side of the filter unit
l Horizontal or vertical installation possible
l Filter medium absolutely free of fibers, ideal for product recovery
l Excellent use for highly abrasive dusts
l Antistatic version of the filter elements available
l FDA-conformity by using food-grade filter material
Surface filtration vs Deep filtration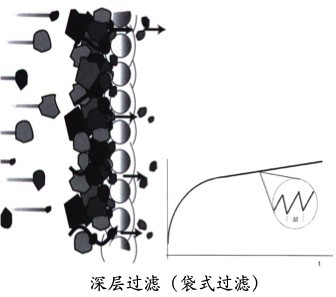 Bag filters/cartridge pleated filters
-deep filtration

Traditional filters like bag filter and cartridge filter have high efficiency when the surface dust accumulated, when the pulse-jet working the efficiency will drop, so the pressure is not stable, in some special conditions, it is not suitable.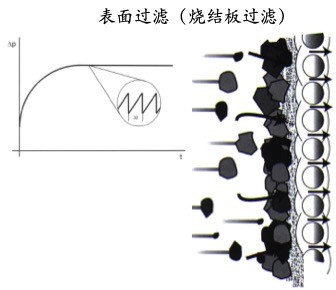 sinter-plate filters
-surface filtration

The sinter plate filter have a PTFE coating on the PE basis, so do not need dust cake to block the other dusts.
when the pulse-jet working, the efficiency will not influenced by the original conditions.
it is called surface filtration.
Filter anatomical structure/working principle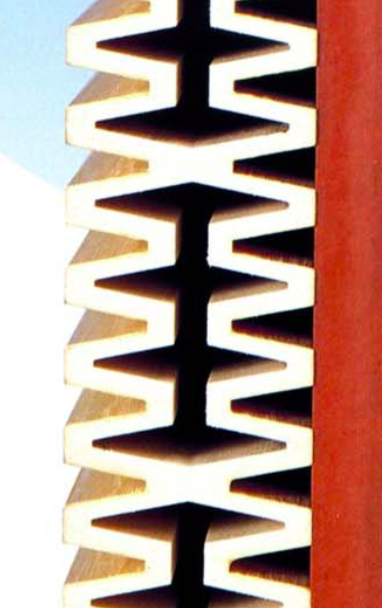 Big filtration area

The plicated design of the sinter-plate filter have big filtration area. our 500*1500mm size filter has 4.75m2.
so the dust collector could design small and that could save lots of space for the company. also, the rigid structure making all the folding area effective.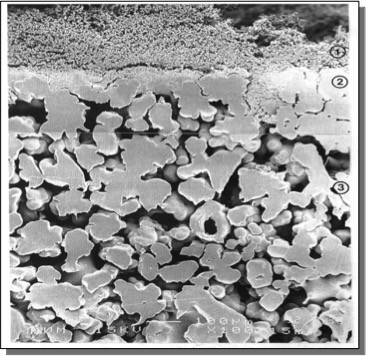 Sinter-plate inside view

UHMWPE base material: 30um@4mm thick;
PTFE coating: 2-3um@5um thick.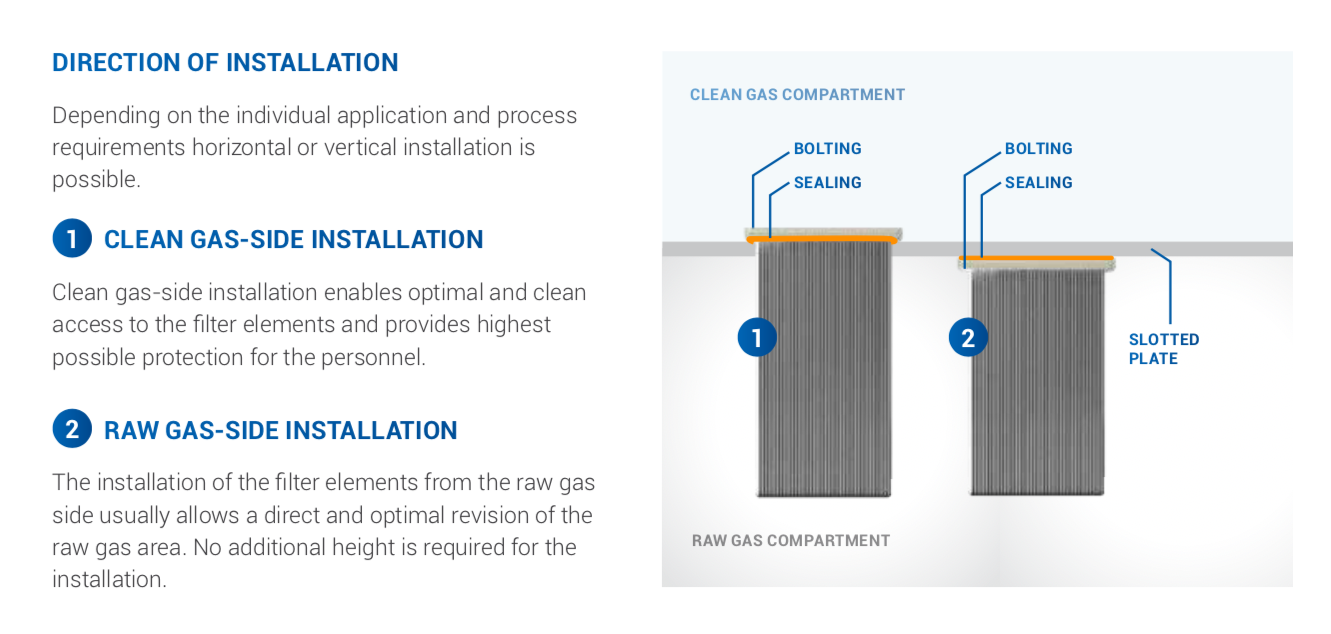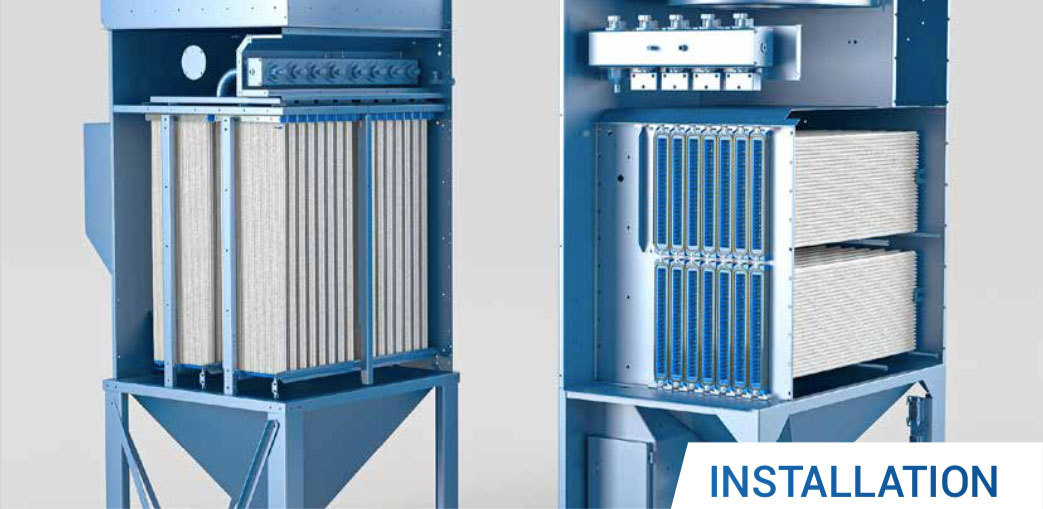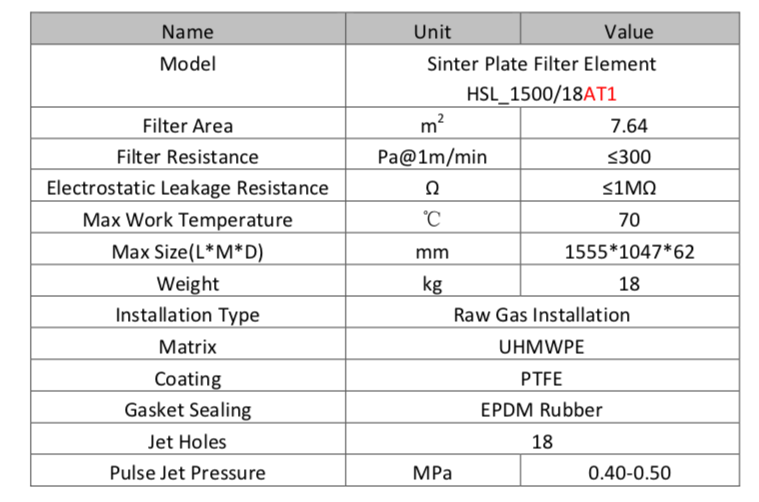 N: Normal; A: Anti-static.
T1: Less than 70°C; T2: Less than 100°C.
For example, Delta2 1500 AT1 means
length1500mm, anti-static,
less than 70°C filter element.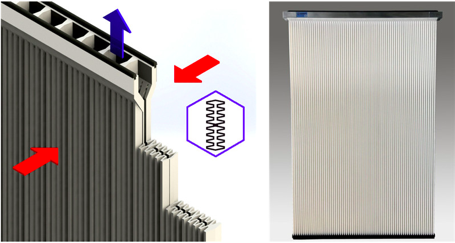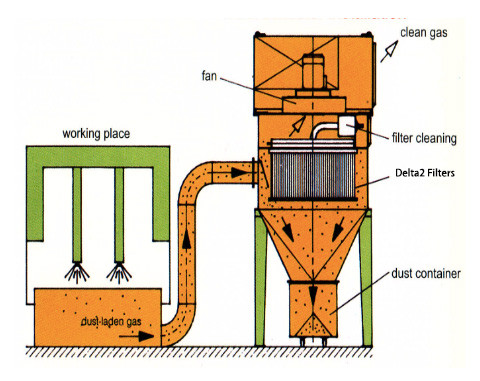 Central Dust Collection-Dedusting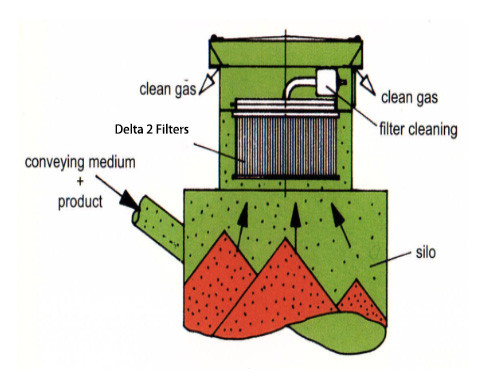 Bunker Top Mounted Filter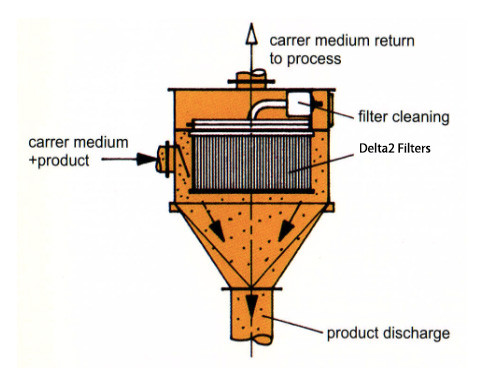 Bulk Solids Handing-Product Recovery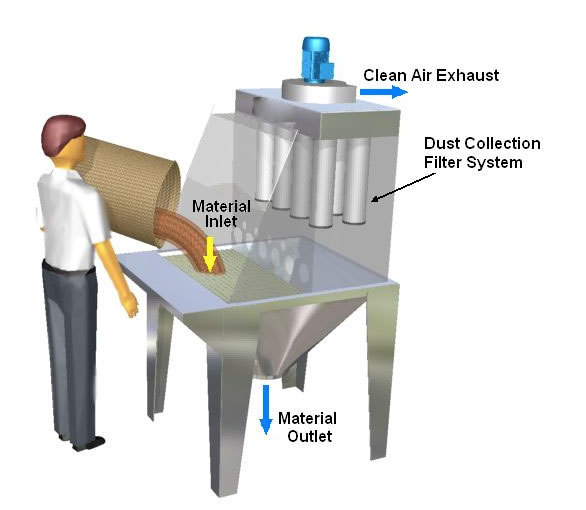 Dumping Station-Powder Filling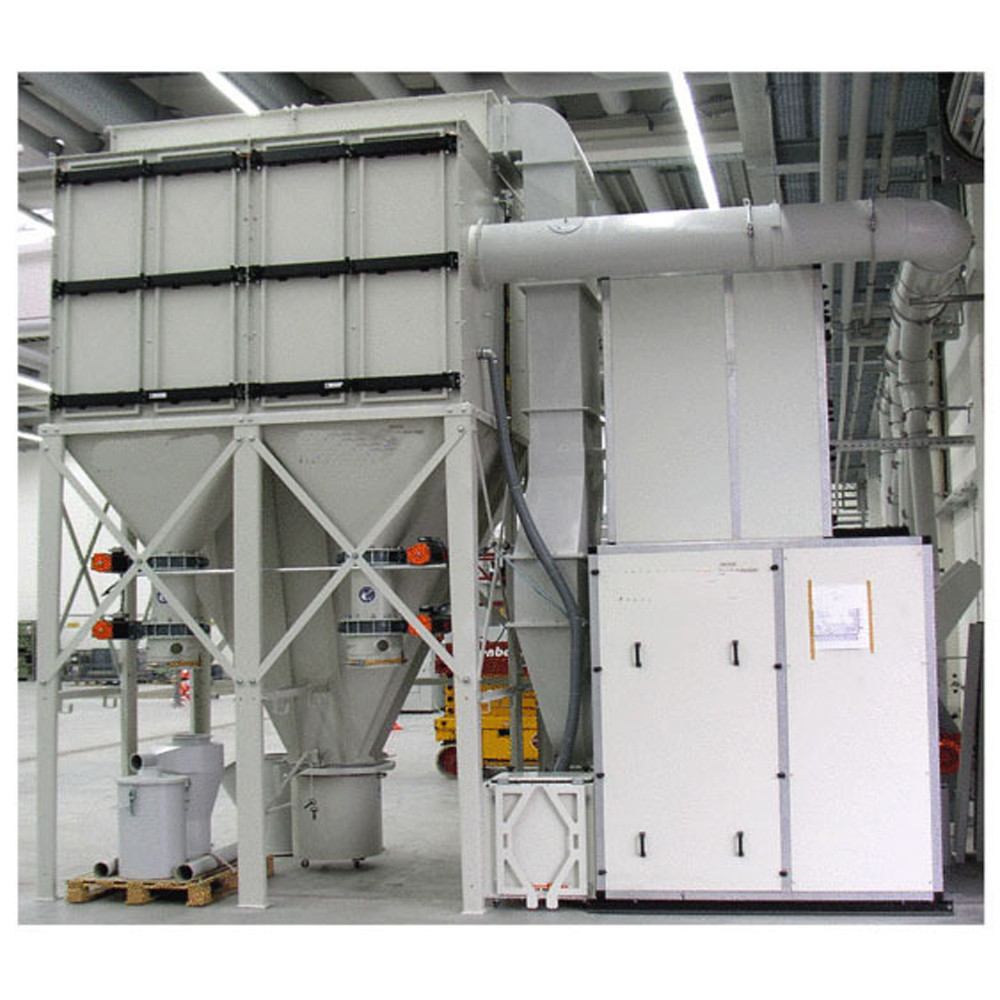 Laser cut process sinter-plate filter dust collection
Laser cutting machine are widely used in metal process all over the world. but the laser cutter will cause fume, dusts, sparks and other components if the cutting material is non-metal.
So ACMAN provide a sinter-plate filter dust collection solution, on the duct before into the dust collector, we design a spark arrestor to prevent the spark come in and cooling the dust.
By using sinter-plate dust collector, customer do not need to change the filters for several years.
In addition, the emission could reach 10 mg emission.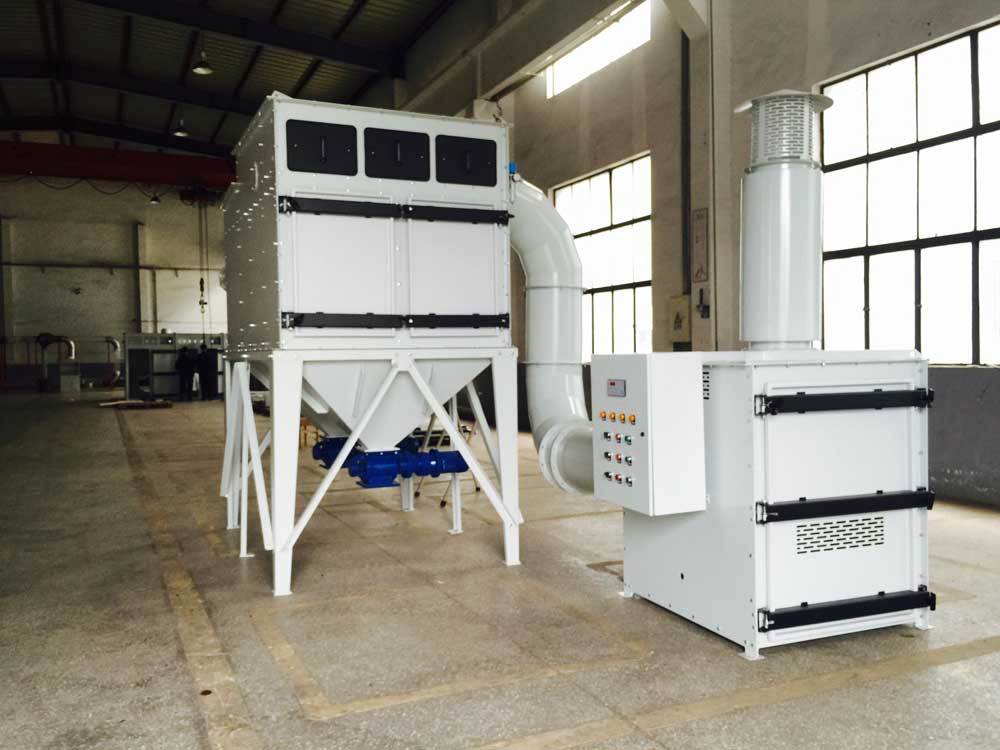 Rare metal dust recycle dust collection

Thanks to the sinter-plate filters's great characteristics of surface filtration and wear-proof function, it could be used in the rare metal or other priceless powder recycle.
For example, the golden mine pulverizer, the silver powder recycle, zinc metal spray coating in electric elements(metal spray machine)...
Also, the 3D printer for metal, also need recycle the rare print material powder, we have application case.
This system we applied in the zinc powder recycling, and our sinter-plate dust collector help customer to catch the zinc powder dust, and save lot of cost.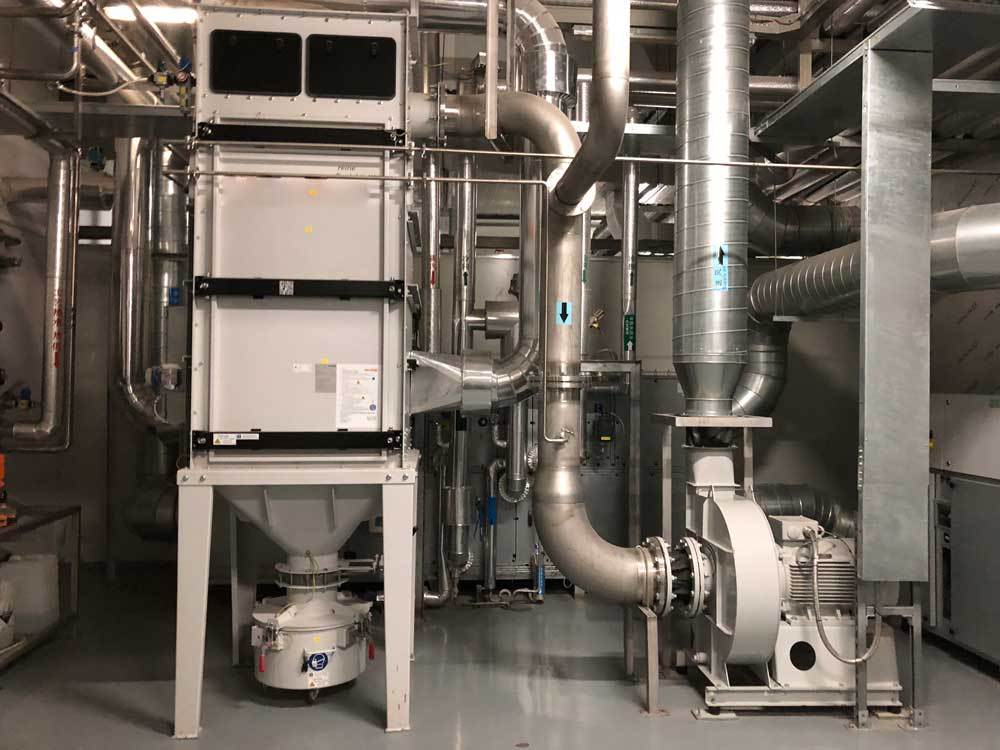 Pharma coater sinter-plated filter dust extractor

Pharma coating process including fluidized bed coating and film coating machine need dust extraction unit because the coater itself have hot gas inlet, so the machine body need air recirculation collection.
This equipment in the picture shows the coater dust collection including the high pressure centrifugal fan.
The coating machine have explosive atmosphere, so we need to concern the anti-explosive measures.
In addition, this process have a cleaning mode after working, so the moisture atmosphere is harm for the dust rooms, ACMAN has its way...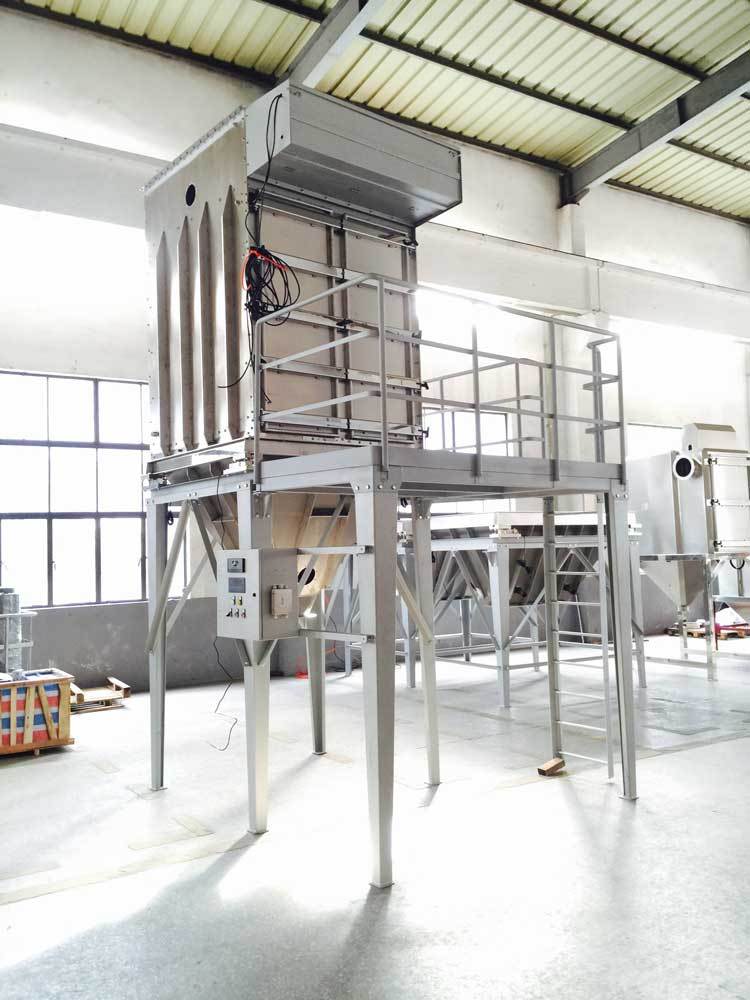 Mining dust collection system

Mining process means the dust is sharp and high concentration. Other filter bags and cartridge filters is not suitable for this working condition.
Sinter-plate filter main material is rigid PE, so it is wear-proof and do not scare of the high concentration.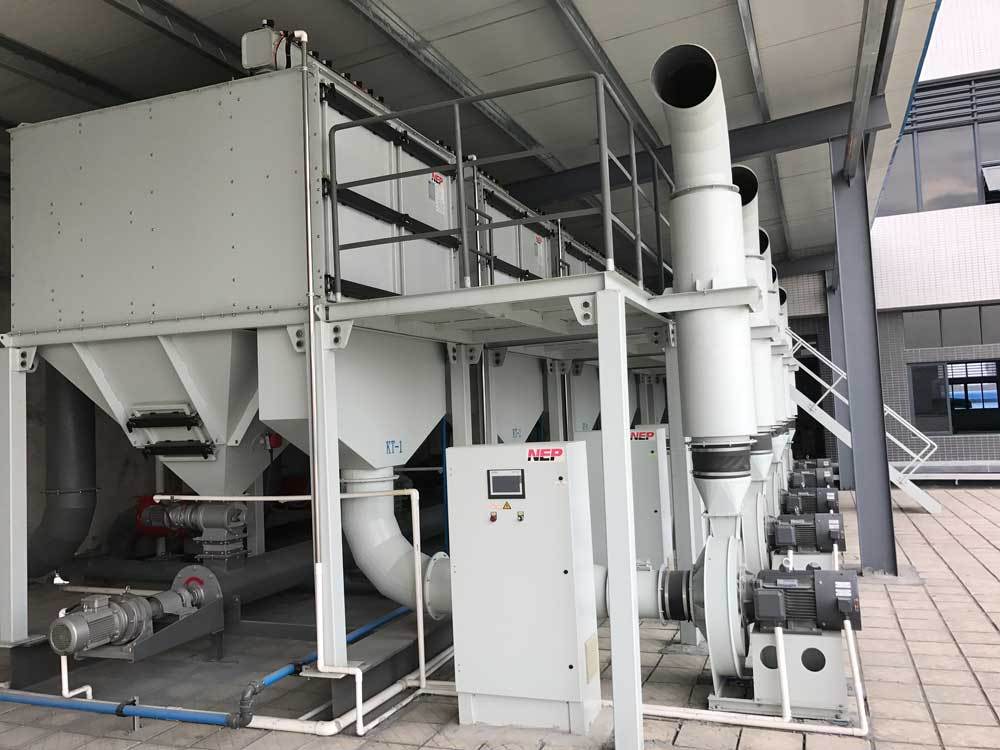 Iron and steel industry

Steel hot rolling process need water to cool the hot iron, the mist contain dust is a difficult task.
Sinter-plate board filter have anti-water characteristics, so it could process high moisture dusts and acid dusts.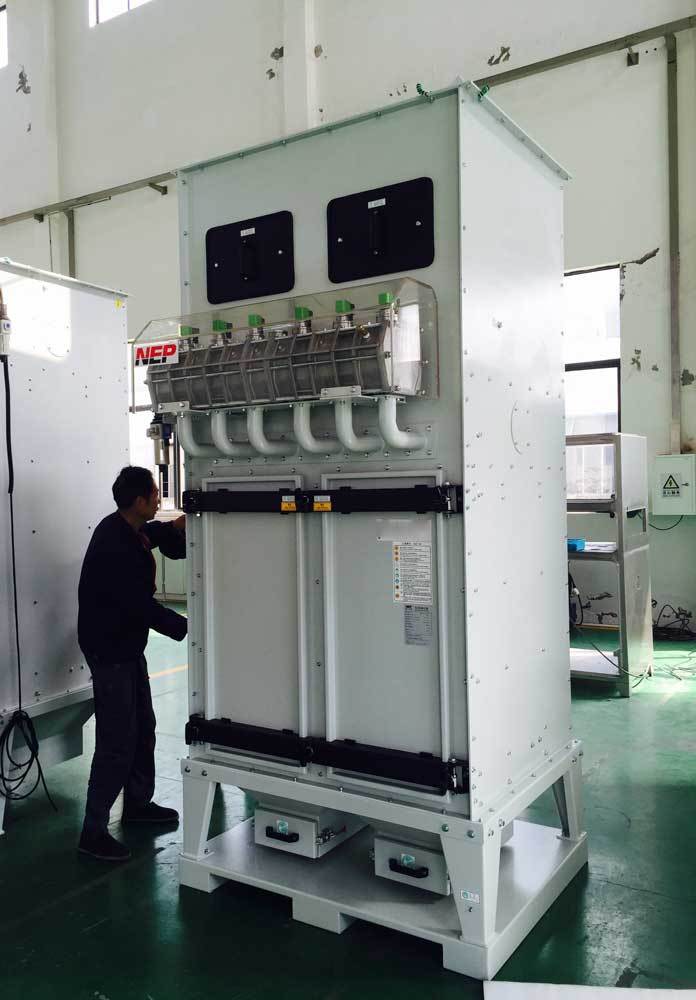 Painting industry

Paint is strict process which need silicon proof. the silicon could make the painting bubble, so when mixing process and reaction process need dust collection filter without silicon.
Sintered PE filter do not contain the silicon could protect the products.